1930's With the development of three new models, KitchenAid moved to make its food preparers more affordable.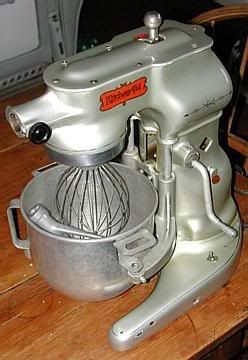 1931 Model F was advertised at $89.80 in a November issue of The Saturday Evening Post. 3 ½ quart bowl

ATTACHMENTS
Since the model F has a 3 ½ qt bowl, although the beaters look like the model G mixers' they are smaller to fit the bowl IMHO.

Since I do not have a manual for this model, I am not sure what, if any additional attachments were produced and advertised with it.

Coffee/cereal grinder

Pea sheller

Citrus juicer

Ice cream maker

Pelican slicer

Rotary slicer

Meat grinder

Can opener

Colander & sieve

Hot/cold water jacket

Splash shield

Pouring chute

Oil dropper

Knife sharpener

Silver Buffer

Ice cream maker
There were quite a few different variations of the ice cream freezer attachment over the years. In the pre-war years, the Model C-10, Model H-5, Model G, and Model F mixers each had their own specific version of the attachment. All of these used wooden buckets, and had a spring-loaded indicator that let the user know when the ice cream was frozen. With the exception of the Model G unit, all of these freezers are extremely difficult to find.
INSTRUCTION MANUAL