CHAPTER NINE
KITCHENAID MODEL K-3A
1940 Model K-3A replaced K-3, It is an updated version. Has only a multi-purpose beater -- this one without the spiral wire on the beater. There is no dough hook or flat beater made for this light duty mixer.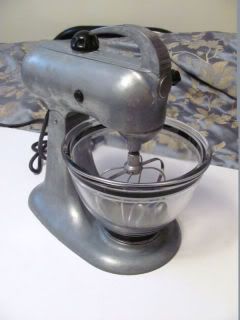 ATTACHMENTS

Since I do not have a manual for this model, I am not sure what, if any additional attachments other than the glass juicer were produced and advertised with it.
Coffee/cereal grinder.
Pea sheller
Citrus juicer
Ice cream maker
Pelican slicer
Rotary slicer
Meat grinder
Can opener
Colander & sieve
Hot/cold water jacket
Splash shield
Pouring chute
Oil dropper
Knife sharpener
Silver Buffer
Ice cream maker
 

 

INSTRUCTION MANUAL