CHAPTER 18
KITCHENAID MODEL K-45
1962 4.5 quart capacity model K45 was introduced. The most popular KitchenAid mixer ever, the K45 is still an important model in the line. It replaced the beloved Hercules like K-4B!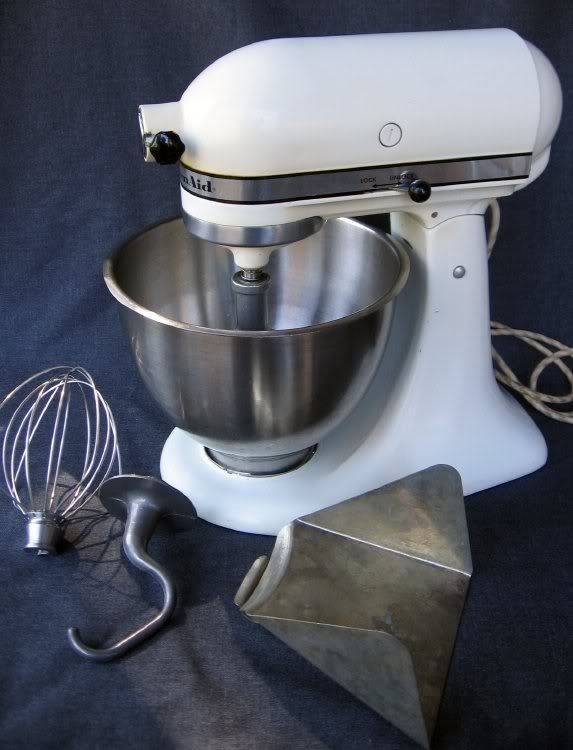 ATTACHMENTS

Coffee/cereal grinder.

Pea sheller

Citrus juicer -- Citrus Juicer is now white plastic
Pelican Vegetable slicer now has stainless steel discs
Rotary Vegetable slicer -- has stainless steel cone rather than cylinder cutting pieces

Food Grinder -- now has the squared food opening rather than the rounded opening

Sausage stuffers are white plastic now
Can opener

Colander & sieve -- This is the style that fits in the top of the standard mixing bowl. This design is necessary on the tilt-head mixers (for obvious reasons) but eventually they started using the same design for the K5-A.
Hot/cold water jacket

Splash shield

Pouring chute

Oil dropper

Knife sharpener

Silver Buffer

Fiberglas Ice cream maker 4 qt version for K-5A

K-45 has it's own
Colander and Sieve a smaller version
2 qt fiberglass ice cream maker for K-45

Post-war versions of the attachment (that went with the K5-A, K4-B, 3C, 4C, and so on) lack the indicator and were first made with both wood buckets. If I recall correctly, the wood-bucket units were made in two sizes. At some point the wood bucket was replaced with the green fiberglass unit, which came with a reversible stand that allowed use on either of KA's mixer offerings (tilt head or bowl lift).

 

 

 

INSTRUCTION MANUAL