CHAPTER EIGHT
KITCHENAID MODEL K-3 MIXER
1939 Model K-3 A 3 speed model was introduced. This is a nice little mixer designed to compete with the cheaper more affordable Sunbeam mixers.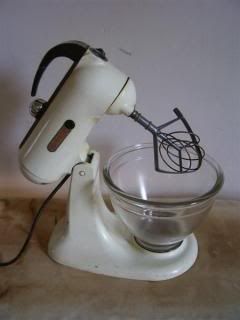 ATTACHMENTS

Has only a multi-purpose beater. There is no dough hook or flat beater made for it as this mixer was designed for light duty home use. As you can see, the beater is a different style than those used on the later 3-A, 3-B, 3-C and 4-C mixers. The additional spiraled wire on the beater is unique to this mixer. The manual calls it the "All-Purpose Whip-N-Beater".
Has a 3 qt tempered glass bowl, and looks like the more popular KA 3-B bowls which were introduced later.
Coffee/cereal grinder.
Pea sheller
Citrus juicer
Ice cream maker
Pelican slicer
Rotary slicer
Meat grinder
Can opener
Colander & sieve
Hot/cold water jacket
Splash shield
Pouring chute
Oil dropper
Knife sharpener
Silver Buffer
Ice cream maker
INSTRUCTION MANUAL