CHAPTER SEVEN
KITCHENAID MODEL K MIXER
1936 KitchenAid Manufacturing Co. came back under the Hobart banner as the company acquired "full ownership and control" of mixer operations. Nationally acclaimed editor and designer, Egmont Arens, was retained to design three new mixer models.
1937 Arens-designed model K was introduced. The first mixer to use a bowl that is secured to the base with an interlocking motion. The K has 3 speeds and is a sturdy little mixer constructed along the lines of a miniature Kitchenaid model G.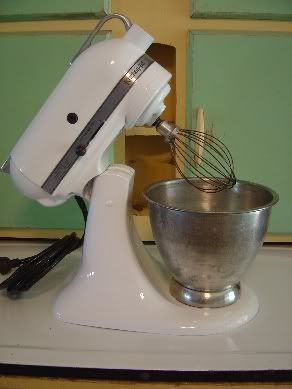 ATTACHMENTS

Note the bottom of the 3 qt tinned metal bowl that screws onto a little pin on the base -- this is the famous interlocking bowl system.
Has aluminum beaters proportioned to fit the small 3 qt bowl --- Flat beater, Whip, and Dough hook.
Coffee/cereal grinder.
Pea sheller
Citrus juicer
Ice cream maker
Pelican slicer
Rotary slicer
Meat grinder
Can opener
Colander & sieve
Hot/cold water jacket
Splash shield
Pouring chute
Oil dropper
Knife sharpener
Silver Buffer
 

 

INSTRUCTION MANUAL

KitchenAid production was moved to Dayton,