CHAPTER TEN
KITCHENAID MODEL K-4
Model K-4 introduced. Basically, it is the model K enhanced with a 4 qt bowl and with 10 speeds.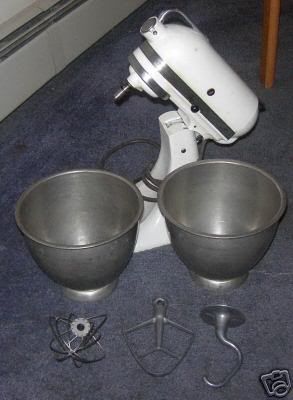 ATTACHMENTS

Due to enlarged bowl, the beaters are larger than the model K -- Flat beater, Whip, and Dough hook.

Tinned metal 4 qt bowl.

Coffee/cereal grinder.
Pea sheller
Citrus juicer
Ice cream maker
Pelican slicer
Rotary slicer
Meat grinder
Can opener
Colander & sieve
Hot/cold water jacket
Splash shield
Pouring chute
Oil dropper
Knife sharpener
Silver Buffer
Ice cream maker
 

 

INSTRUCTION MANUAL

 

 

 

 

 

THERE MAY HAVE BEEN A KA K4A, BUT IF SO, THERE HAS NOT BEEN ONE TURN UP THAT I HAVE SEEN YET.