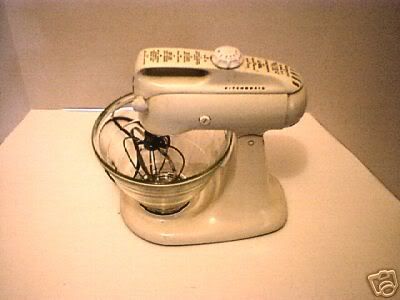 CHAPTER SIXTEEN




KITCHENAID MODEL K-3C MIXER





 

 

 

 

1950 Model K-3C - Model K-3B cosmetically re-designed. Has only a multi-purpose beater. There is no dough hook or flat beater made for it.






 

 


ATTACHMENTS

Coffee/cereal grinder.

Pea sheller

Citrus juicer

Ice cream maker



Post-war versions of the attachment (that went with the K5-A, K4-B, 3C, 4C, and so on) lack the indicator and were first made with both wood buckets. If I recall correctly, the wood-bucket units were made in two sizes. At some point the wood bucket was replaced with the green fiberglass unit, which came with a reversible stand that allowed use on either of KA's mixer offerings (tilt head or bowl lift).




Pelican slicer

Rotary slicer

Meat grinder

Can opener

Colander & sieve

Hot/cold water jacket

Splash shield

Pouring chute

Oil dropper

Knife sharpener

Silver Buffer

Ice cream maker



 

 

INSTRUCTION MANUAL

 

 

 

 
KA sold a kit specifically for conversion of the 3C plate to a 4C plate, so the 4C bowl could be used on the 3C. The kit from KA included the replacement plate, and either a glass or aluminum bowl.






 

 

 

 

1955 KitchenAid mixers appeared in new colors at the Atlantic City Housewares Show… Petal Pink, Sunny Yellow, Island Green, Satin Chrome, and Antique Copper. (Interestingly, pastel colors for the kitchen were touted as "new" at the Chicago Housewares Show this past January).